Diana Directive, a Hospital Unit Secretary
November 28, 2010
I'm Diana Directive...22...an OSU grad, and very excited about starting my new job as a unit secretary 2nd shift here at OSU Hospitals. Look, a girl has to do what a girl has to do to hook a doctor! Right? Already, I am having some... teensy... weensy problems. Actually, it is a BIG problem. They want ME to wear...a boring uniform. I have never worn a uniform in any of the many, many jobs I have worked. Why would I want to be like everyone else? BORING!!! Let's just say I have a style all my own. H-O-T P-I-N-K is my color. It is just something I will not compromise on. Maybe if Lady Gaga started to wear the uniform, I would reconsider.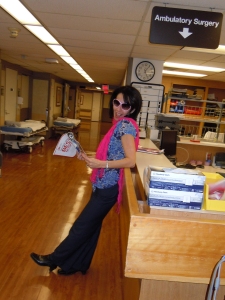 So I got to work 10 minutes late. Already they were having a cow! My nails weren't dry so I had to wait till they were bone dry, right? Do I really want to spend money at the salon to goof it up so I wont be late for work? Come on! Where are your priorities?
After confirming that I had no lipstick on my teeth, I started getting my work organized. I like to have everything tidy on my desk. You know what I mean...I just shoved it all together so it looked like I was efficient. Patrice, the unit secretary from 1st shift was thumping her foot when I got there. She was annoyed. Something about being late now to her kid's concert. Does that mean a kid is more important than my nails being perfect? Patrice said she had to run, but needed to drop something off on the Neurology unit before she would give me her report. Whatever!!!
She leaves and I am waiting for her return. Thirty minutes pass and the nurses glare at me because I am reading my bible...The Enquirer. Enquiring minds what to know. I need to know if Ashton was really fooling around on Demi. You know, when it is in print, it MUST be the truth...right?
I started to wonder if Patrice was ok. Look, she's in a hospital, right? What could go wrong? Maybe she fell on one of those slick floors that housekeeping always seems to be washing. Maybe she fell, hit her head, and is unconscious. Maybe she is being raced to surgery...I did hear a code called on the 7th floor. What if she is in real trouble? Worse...what if this had happened to me? With my spiked Jimmy Choo leopard skin shoes, I could fall and hit my head ...landing me in a coma. What would they do? They would put me on a breathing machine thingy. That would interfere with my "hot date" tonight.
I guess I need to take this seriously. We always ask patients about their wishes for advance care planning, but we never look at this issue for ourselves. Thank goodness...a smiling Patrice magically appears around the corner. She is smiling...that means only one thing. She must have been talking to that cute neurology resident and that is why she is so late. She can't blame me now that she is really late for the kid's concert.
I have an idea...I know...frightening thought. The thought of me thinking? Watch out world! Over the next month, you and I can start looking at these issues of advance care planning. You don't have to do it alone. I'll keep this as a personal journal here in the OSU newsletter, because I know you find everything I do to be FASCINATING! Next month, we'll talk more about how to make these decisions. It's like making a decision about whether or not to date an attorney or a doctor. It's just tough to figure out how to reach my destined goal—retirement! Making decisions is tough. Can't I just toss a coin? Anyways, contact me at Diana@discussdirectives.com so we can gossip. Talk to you next month.
See more about customized articles or Diana Directive.
Diana Directive is quite a character!
She is a 22-year-old woman who got lucky and married her boss. With a twist of events, she ended up in a situation she wasn't counting on. Diana will make you laugh at her style and antics, but you will remember her lesson on who to choose as a power of attorney for healthcare.
Professional speaker Lisa Newburger brings Diana to life in her seminars and workshops to corporate and community groups.